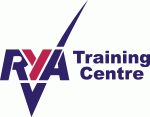 2021 Course Dates
Dates of courses will be published on the training calendar as they become available.
For more information on course content and progression pathways, please see the RYA Dinghy Adult Course Guide: View PDF guide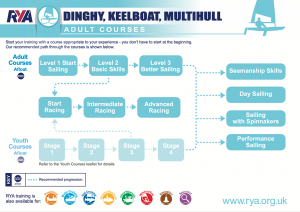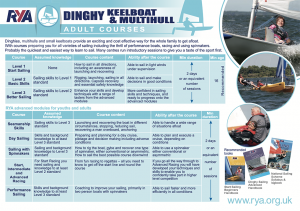 The 2-day RYA Level 3 course is the next stage after completing your Level 1/2 course. It is best to have a season of sailing after gaining your Level 2 qualification. While Level 3 will help consolidate and improve your sailings skill, this is an assessed course, and there is no guarantee of achieving Level 3 . As with all training at Littleton, if unsuccessful, there is an opportunity to return at a later date after practice and improvement.  
The course covers all the skills you learnt at Level 1 and 2 but at a more advanced level. It also introduces you to other skills such as seamanship, sailing with a spinnaker and starting to race. It will be given in the RS Vision training dinghies and there should also be an opportunity to try out some higher performance dinghies.
You must first join the club to take part in a course, though the combined cost of membership plus the course fee is cheaper than most commercially available courses.
Contact our Training Principal, Andrew Selves